Eat's Better Mayo
The Plant Eat aims to help consumers shift to a healthier plant-based diet with products such as 'Better Mayo'.
The mayo uses 'Yak-kong', the Korean local black beans. It is said that 'Yak-Kong' help detoxification, blood circulation, kidney, diabetes, high blood pressure and obesity.
'Better Mayo' has a cleaner and less oily taste than traditional mayonnaise and it's great for sandwiches, salads, and other dishes.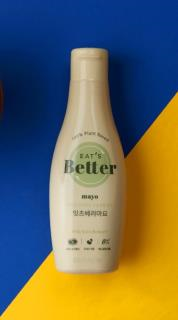 Made by
The PlantEAT is a food tech startup that creates plant-based replacement products to promote healthy eating habits. Their vision is to solve problems in global nutrition imbalance and change the bad habit of excess meat consumption. For now, their short term goal is to create and promote a healthy and balanced consumption habit for everyone through our products through their tasty plant-based alternatives.
www.theplanteat.com
External websites may mention products that are not Vegetarian Society approved.