Marmite Breadsticks
Marmite, the yeast extract spread you either love or hate, is pleased to announce the arrival of a brand new snacking range, tasty Rice Cakes and Breadsticks, so all you Marmite lovers can get your Marmite fix throughout the day, whenever and wherever you want! Just like all other Marmite products, the snacking range is 100% vegetarian and proud to display the Vegetarian Society approved logo.
Both products also do not contain any artificial colours, flavours or preservatives and are packed with B-vitamins, in fact a single packet of either product provides at least 50% of your recommended daily allowance of Folic Acid. What's more at just 1% of an adult's guideline daily amount of fat, Marmite Rice Cakes are not just super tasty, but low in fat as well!
These fabulously flavoursome new snacking products from Marmite are available from most major retailers nationwide. Plus, keep you eyes peeled as the Marmite team prepare to launch even more exciting products for the nation to either love or hate!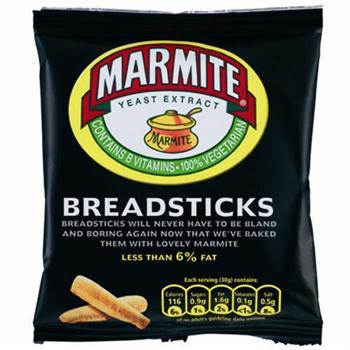 Made by
Marmite on toast is a unique & delicious breakfast, which helps make your mornings that little bit better! Marmite provides a quick & easy breakfast solution for the whole family to enjoy. What's more, Marmite is rich in B vitamins and has no added sugar - what more could you want from a breakfast?! Spread Marmite on toast, crumpets, bagels and a host of other foods. You can even try Marmite with eggs, avocados or cheese for an extra burst of flavour!
www.unilever.co.uk/
External websites may mention products that are not Vegetarian Society approved.