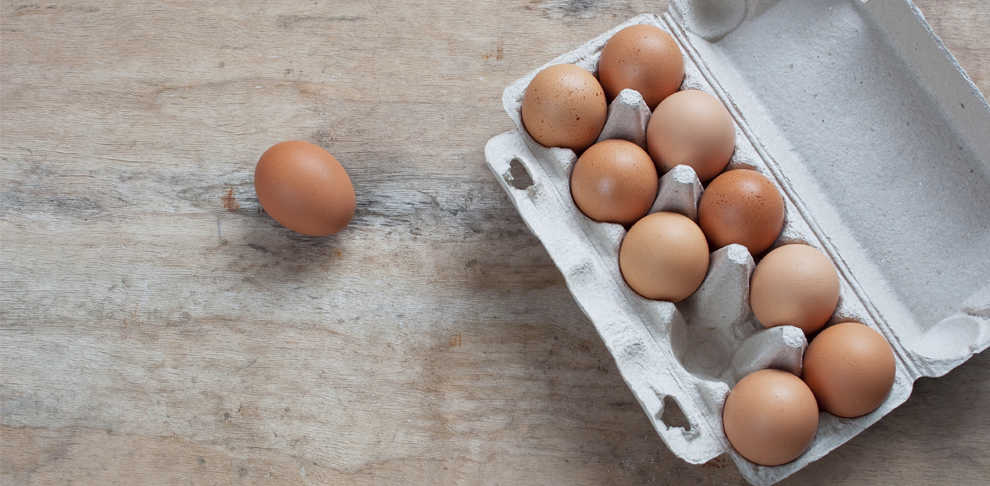 Press statement from the Vegetarian Society about free-range eggs
02 March 2017
Back in December 2016, the government ordered all bird keepers to house their animals in order to protect the UK from a virulent outbreak of avian flu on mainland Europe. These restrictions applied to everyone from poultry farmers to families with a few chickens.
Under EU rules, if hens have been housed for more than 12 weeks, any eggs they produce cannot be sold as free-range. As the 12 week mark has been reached this week, all free-range egg boxes will now carry a sticker explaining that the box contains "eggs laid by hens temporarily housed in barns for their welfare".
Here at the Vegetarian Society, we recognise that these are circumstances beyond anyone's control, and that the legal requirements being put in place are for the birds' welfare. We believe that clear information and labelling of the food we eat is of paramount importance, and support the initiative to place stickers on boxes of free-range eggs to ensure consumers have the fullest information possible. We also feel it is important to support free-range egg producers during this difficult time to ensure the supply of free-range eggs will continue after this situation is resolved.
We would like to assure people that our Vegetarian Society Approved trademark standards have not been reduced during this time. Our trademark criteria stipulate products that contain eggs must only use free-range eggs. Although we acknowledge the current circumstances may mean that the eggs used in some products carrying our trademark may need to be from temporarily housed hens, the manufacturers of these products must continue to use their free-range suppliers. We would also like to assure people that even while the supply of free-range eggs is temporarily suspended, products that ordinarily use non-free-range eggs will not meet our criteria and will not be eligible for our accreditation.
We are delighted to hear that egg producers are going to extra lengths to ensure their hens are as happy as possible during this period, which includes providing toys and treat dispensers.