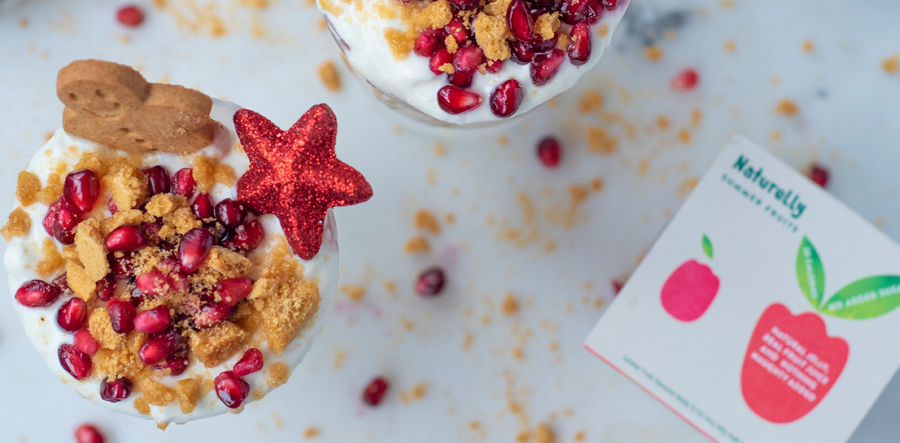 Healthy Christmas Trifle
Recipe by Naturelly.
Ingredients

For the custard
1 cup oat milk (or any other plant based milk)
1 tbsp potato or corn starch
2 tbsp maple syrup (you can use any other sweetener)
1 tsp vanilla extract
Pinch of turmeric (don't overdo it otherwise the colour will be orange)
For the layers
250g white yogurt
2 Naturelly Jelly pots
4 tbsp pomegranates
2 crushed gingerbread men
Optional Toppings
Pomegranates
Gingerbread men
Method
• First make the custard. In a small pot mix potato starch with milk until there are absolutely no lumps. Bring slowly to a boil while stirring constantly.
• Once boiling reduce heat, add maple syrup and simmer on a low heat for a few minutes until thick and smooth. Keep on stirring to avoid lumps.
• Add vanilla extract, remove from heat and let cool down.
• Now get 2 nice glasses and cover the bottom with yogurt (save a bit for the top). Then take one Naturelly Jelly pot and divide equally between both glasses.
• Throw in each glass 1 tbsp of pomegranates and half of the crushed gingerbread men.
• Spoon the custard over the fruit, take the other Naturelly Jelly pot and divide again between both glasses.
• Top up with any leftover yogurt, decorate with pomegranates and gingerbread.
You can find where to purchase Naturelly products on the company website.
For more information check out Naturelly's Facebook and Twitter accounts.