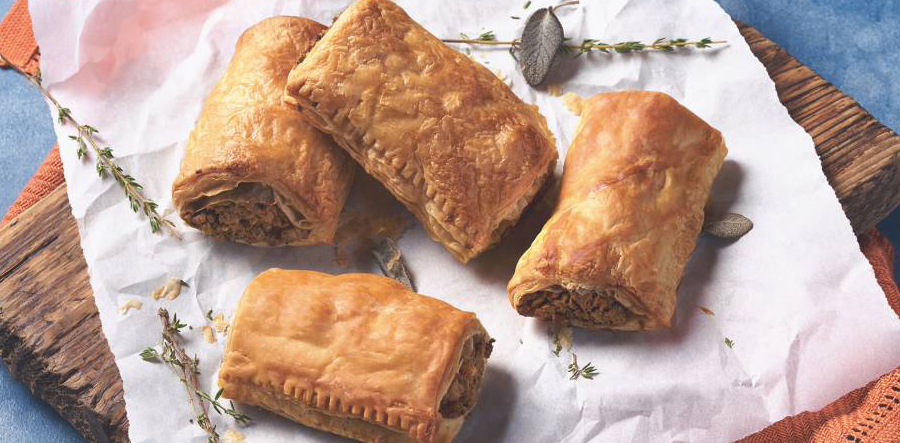 Quorn Vegan Sausage Roll
These vegan sausage rolls combine Quorn Vegan Cumberland Sausages with a classic combination of sage, thyme and apple.
The selection of vegan Quorn products make great ingredients for really tasty vegan meals. Whether you are looking for a vegan lunchtime solution to create the ultimate sandwich, or dinner time meal inspiration with Quorn Vegan Pieces, Nuggets or versatile Quorn Spicy Vegan Burgers.
Explore the delicious vegan range here and and create all your favourite dishes!
Ingredients
1 pack of Quorn Vegan Cumberland Sausages, defrosted
4 sage leaves
3 sprigs of thyme, leaves only
1 apple, grated
1 clove of garlic, crushed
¼ tsp salt
¼ tsp black pepper
1 pack of ready-to-roll vegan puff pastry
1 tbsp vegan milk
Method
• Preheat your oven to 200C and line a baking tray with greaseproof paper.
• Place the Quorn Vegan Cumberland Sausages, sage leaves, apple, garlic, salt and pepper in a food proccessor and pulse until smooth.
• Remove the puff pastry from its packaging and roll out on to a clean, flat surface. Cut in half lengthways to create two long strips. Divide the sausage mixture and place in a long sausage shape across the long edge of the pastry strips.
• Using both hands, tightly roll and fold the pastry over, tucking in underneath and pressing lightly to seal the pastry. Brush the pastry with the vegan milk. Transfer on to the baking tray and bake for 20 minutes.
For more information check out Quorn's website.