Lucy Bee Fair Trade Organic Coconut Sugar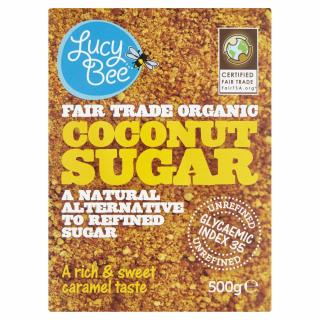 Made by
When we were introduced to coconut oil, we fell in love with it and wanted to share this with others, so looked at sourcing and importing it. Being fans of natural foods and organic farming, it went without saying that this would have to be organic, extra virgin, raw and Fair Trade, too. Fair Trade is at the foundation of all that we do.
Since then, we've added to our range to include those store cupboard staples that we regularly use, still following our ethical principles. In our quest to bring you ingredients of the highest quality, we have searched the world and developed relationships with trusted, like-minded suppliers, who support our Fair Trade policy.
Last year we received the Best Buy for the most ethical Coconut Oil and Creamed Coconut on the UK market.
With our Bath Salts range, we're unable to buy these Fair Trade so instead, we donate 15p per tub sold, to the charity Love Support Unite, with whom we work closely.
With our care for the environment, we insist on recyclable packaging and our Coconut Oil is bottled in glass jars with easy peel labels to make them easier to reuse and recycle.
www.lucybee.com
External websites may mention products that are not Vegetarian Society approved.