Georgia's Choice - Mexican Bean Bake
Gently spiced beans, sweet potato and vegetables with our crispy gluten free crumb. This product is also suitable for Vegans. Great served with a tomato and coriander salsa or sweet corn and mayonnaise.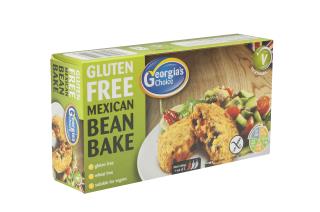 Made by
Red House Foods are a small, independent, British Company based in Wilshire dedicated to making great tasting gluten free food. Using only the best certified ingredients we make award winning products under the Georgia's Choice brand name. Not only are they gluten free they are also free from artificial flavourings and colourings and preservatives. In addition they are nut free and soya free. Frozen for convenience they can be found in major supermarkets such as Tesco, Sainsbury, Asda and Waitrose. See website for more details www.georgiaschoice.co.uk
www.georgiaschoice.co.uk
External websites may mention products that are not Vegetarian Society approved.