Marmalade - Three Fruit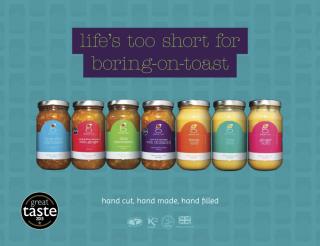 Made by
Each bright and colourful jar of Granny Cool curd or marmalade is full to the brim with delicious, handmade preserves (all created in open pans, the old-fashioned way) before being hand-sealed for freshness. And, best of all, anyone can enjoy them as Granny Cool is the first brand on the market to be suitable for everyone, including Kosher, Halal, Veggie and Vegan! Although inspired by the founders' family recipes, handed down by their very own Granny, Granny Cool is anything but dowdy and old-fashioned. So, throw away those crochet cardigans and enjoy curds and marmalades that truly belong in the 21st Century. There are seven products in the range, three curds: Lime, Ginger and Lemon, and four marmalades: Three Fruit, Three Fruit With Cinnamon, Orange & Lemon with Ginger and Lime. "We wanted to create a brand of delicious and traditional products that meet the needs of the 21st century buyer. That's why Granny Cool is suitable for everyone. After all, life's too short for boring on toast." says Nikki Frith, founder of Granny Cool. One of the brand's newest stockists is gourmet food store Dean and Delucca. "It is very rare that a product both looks and tastes fantastic but Granny Cool has managed it. The lemon curd in particular is stunning!" says John Donnelly, Category Manager at Dean and Delucca. So, whether you're looking for something to spread on your toast, dollop in yoghurt, plonk on your crumpets or top your scones, Granny Cool could be just what your tastebuds have been waiting for. Granny Cool products are available from independent delis and high end food shops across the UK, including Dean and Delucca, as well as Booths supermarkets, Partridges and Natural Kitchen.
www.grannymarmalade.com
External websites may mention products that are not Vegetarian Society approved.