Balangwu Suya Paste
The Balangwu Suya paste is a marinade of exquisite quality used for making African kebab called Suya. The marinade is made from an ancient recipe got from the city of Kano and dates back to the days when Timbuktu and Kano were respectively centres of mathematical learning and Kano - the capital city for the North African Spice trade. Vegetarians can use it for Nubian Vegetable Stir Fry!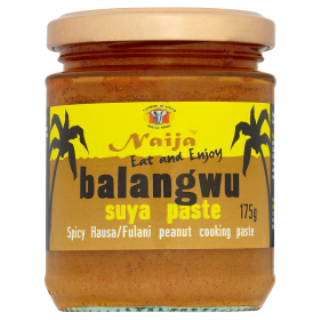 Made by
Odeiga House Limited (ODHL) is a holding Company registered in the UK in 1998. Its aims are to develop premium quality African and Caribbean food and drinks, of first class quality and standard. ODHL operations are being positioned to expand beyond the UK to capture the opportunities that are presented in Europe, America and Africa. Our vision is to develop a range of premium quality authentic African and Caribbean foods across the complete grocery category that will raise the profile of Africa's cuisines by creating a brand that is synonymous with African and Caribbean food. The headline strategic brand values of the Odiega House Limited are – quality, authenticity, a distinctive taste and creating a successful and confident brand image.
www.naijacookingsauces.com
External websites may mention products that are not Vegetarian Society approved.