PureAire California Orange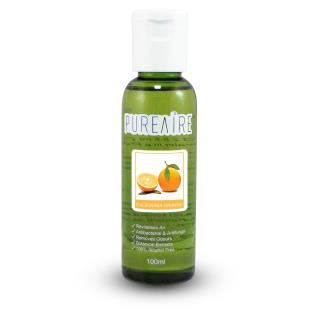 Made by
Soap Nuts Eco-Friendly Laundry Detergent - 1kg Bag What Do They Do? They are a natural laundry detergent that is literally grown on trees. The soapnut shells contain Saponins which on contact with water release mild suds and can be used as an environmentally friendly alternative to Laundry detergent in washing machines History Soap nuts are sometimes known as soap berries and are members of the Sapindus genus. In India and Nepal they have been used as a washing detergent for hundreds of years. The species used is the Sapindus mukorossi. They are great for the modern day thinking person that considers the future of the planet. They are actually very effective and can save you money compared to supermarket bought washing powder. Benefits • Pure and natural Eco-Friendly laundry detergent • Leaves your laundry fresh and clean • Keeps your colours of your clothes bright • Allergy-free, good for your skin • Cultivated through sustainable agriculture • Acts as a Environmentally-friendly washing powder that is chemical free • Ecological and economical compared to other brands of detergent. • The 1 Kg bag can be used for more than 100 loads of laundry. • Works out cheaper than Washing Detergent • Mild and soft cleansing • Suitable for your washing machine • Can also be used as a natural soap or all-purpose cleaner in the house The cost is just £10.99 for a 1Kg bag and represents great value. Why not give them a try and buy today. We hope you will be very satisfied with their quality and amazed how they are able to get clothes clean. If you still need convincing please feel free to look at the fantastic reviews for the product! Where do Soap Nuts Come From? Soap nuts are harvested in October and when removed from the tree the soap nuts are sticky and golden in colour. They are then dried where their colour becomes reddish-brown. The nuts get cracked and the black kernel removed. It is the shell which contains the saponin (a natural detergent). The kernel cannot be eaten nor used for washing. The shells are then packed up in cotton bags and sent the UK. How do Soap Nuts work? The saponin in the shells is sticky and acts similar to normal soap. When the shell gets in contact with water, the natural saponin soap is released and creates mild suds. We recommend placing 4 to 5 half shells in one of the provided cotton bags and place with your laundry in the washing machine. You can start your machine as you normally would, with or without pre-wash. Unlike common washing powders and liquids that contain significant levels of chemicals, the soap nuts are environmental friendly and gentle on the skin. The remains of the soap nuts can be composted or be disposed of through organic refuse. Tips with using Soap Nuts: • There is not a need for fabric softeners • They work very well with delicate fabrics • If they are washed in cold to warm water, the soap nuts can be used for a second time the same day • We recommend adding one tablespoon of stain remover in the case of heavy stains! • Why not add your favourite essential oil for a more fragrant wash.
www.salveo.co.uk/about-us/
External websites may mention products that are not Vegetarian Society approved.