Camel Natural Pistachios
Camel® Natural Pistachios are air roasted with very little salt added to retain the whole natural goodness of the finest pistachios. Each pistachio is naturally opened and unbleached, as reflected by its darker shell. Camel® Natural Pistachios are Trans fat free, naturally cholesterol free and high in dietary fibre, makes them your natural choice for a delicious and nutritious snack anytime, anywhere.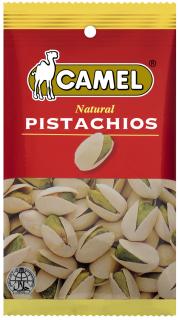 Made by
Company Core Values: "I love CAMEL" C – Continuous Improvements A – Always Delight Customers M – Mutual Benefits E – Excellent Service L – Loyalty Consumer Enquiries: email, queries@camelnuts.com
www.camelnuts.com
External websites may mention products that are not Vegetarian Society approved.