Camel Natural Cocktail Mix
Camel® Natural Cocktail Mix is a mixture of nuts, raisins and figs. Our Natural Cocktail Mix uses only the finest natural ingredients of the highest quality. All nuts in the mix are air roasted and all fruits are naturally sun dried. No salt, sugar or preservatives is added during the process to artificially enhance the taste. Camel Nuts, a Healthier and Tastier Snack, anytime, anywhere.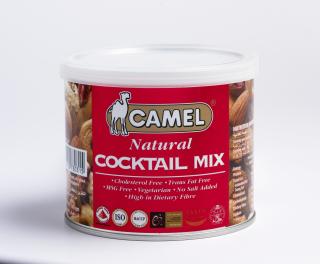 Made by
Company Core Values: "I love CAMEL" C – Continuous Improvements A – Always Delight Customers M – Mutual Benefits E – Excellent Service L – Loyalty Consumer Enquiries: email, queries@camelnuts.com
www.camelnuts.com
External websites may mention products that are not Vegetarian Society approved.