Camel Roasted Almonds/Natural Almonds Baked
CAMEL® Natural Almonds Baked brings out the natural goodness of the premium nuts. Processed from the finest ingredients, each Natural Almonds Baked is full-flavored and delightfully crunchy. CAMEL® Natural Almonds Baked are trans fat free, high in dietary fibre, source of protein and naturally cholesterol free, making them your natural choice for a delicious and nutritious snack, anytime, anywhere.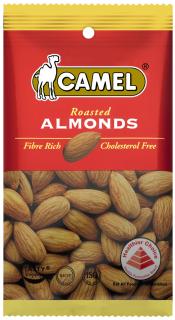 Made by
Company Core Values: "I love CAMEL" C – Continuous Improvements A – Always Delight Customers M – Mutual Benefits E – Excellent Service L – Loyalty Consumer Enquiries: email, queries@camelnuts.com
www.camelnuts.com
External websites may mention products that are not Vegetarian Society approved.