Green People Conditioner Lavender Burst
The natural choice for tangle-free, manageable hair with Pro Vitamin B and Guar Gum to moisturise and condition. Delicately scented with fairly traded Lavender Oil for a soothing and calming affect. Help kids stay Nit-Free for happy, healthy schooldays, as recommended by the Department of Health in combination with their 'Bug Buster Kit'.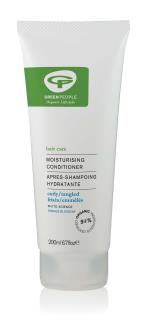 Made by
Green People are pioneers in organic beauty. Charlotte Vøhtz founded the brand in 1997 to create natural products for her 2 year old daughter Sandra, who suffered from severe eczema and allergies. Today, a portfolio of 140 products includes personal care for women, men, teens, children and babies, and most are Certified Organic by the Soil Association, Organic Food Federation or EcoCert. High performance natural actives deliver the purest personal care that nature can offer. Green People products are not tested on animals and never contain: Sodium lauryl/laureth sulphate, parabens, lanolin, phthalates, propylene glycol, alcohol (ethyl alcohol, ethanol), harsh foaming agents, irritating emulsifiers, synthetic fragrances, PABA-sunscreen, colourants, petrochemicals, urea, DEA, TEA or PEG'S 10% of net profit is donated to charity Browse online at www.greenpeople.co.uk, or call 01403 740350.
www.greenpeople.co.uk
External websites may mention products that are not Vegetarian Society approved.