Delamere Dairy Medium Goats Cheese
This smooth and tasty goats' cheese is matured for between four and six months to give it a pronounced flavour. It can be used in just the same way as you would used a cheddar cheese, simply on crackers, in sandwiches, sauces and all your favourite recipes. It makes a mouthwateringly good cheese on toast!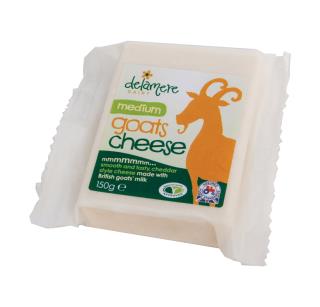 Made by
Goats' milk has a refreshing, mild taste and is a good source of calcium. 76% of Delamere Dairy's customers drink goats' milk for health related reasons, including cows' milk intolerance, skin conditions like eczema and digestive problems. Others simply prefer the taste. Nutritionally goats' milk is very similar to cows' milk and can be used in just the same way - in tea and coffee, on cereal and in all your favourite recipes. As well as fresh and long-life milk, Delamere Dairy also offers an award-winning range of goats' cheeses, yogurts and butter. If you've not tried goats' milk before, now's the time to give it a try. Available throughout the UK, visit www.delameredairy.co.uk for stockists or call us on 01565 750528.
www.delameredairy.co.uk
External websites may mention products that are not Vegetarian Society approved.