Natural Bath Soak, Unscented
Our natural bath soak is a unique blend of naturally occurring crystals and plant extracts, which are a perfectly natural way to revive and restore your body. Our Natural Bath Soak contains an important combination of essential earth minerals. It's a rich source of natural anti oxidants and negative ions and we add a natural plant extract, which is a further luxury for the skin. Simply add a few scoops of the natural crystal salts to the water as you run your bath and when all the salts are dissolved, enjoy the most revitalising experience you can have in your bathroom. Our bath salt range comes in Natural (unscented), Rose and Lavender.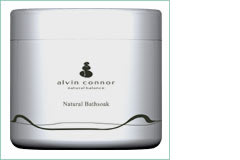 Made by
www.alvinconnor.com
External websites may mention products that are not Vegetarian Society approved.