Astonish Washup Lemon & Ginger
Astonish Citrus washing up liquid has been specially formulated to cut through tough grease and dirt yet mild to hands. Super concentrated cleaning action, antibacterial formulation, added moisturizer to prevent drying hands. Fresh citrus fragrance, lemon and lime.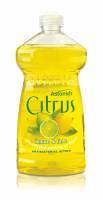 Made by
Ours is a family run business with over 30 years of experience in producing household cleaning chemicals. The criteria with all Astonish cleaners is the same: * The formula must be superb and really work * The product must conform to being biodegradable * Neither the product nor ingredients can be tested on animals * No astonish cleaner can contain any animal ingredients * The end product must be sold at a very competitive price Perhaps due to meeting the above, our products are now sold in more than 40 countries with growing sales. Long before it became fashionable we were pleased to state that our cleaners were biodegradable although not many in those long ago days even knew the meaning of this. In addition we have been members of the international (Washiungton Based) organisation PETA even before they reached the UK. As explained above we adopt a strict 'no testing on animals' policy as well as acquiring ingredients which must be of the highest quality but with no animal content. Whether to remove heavy grease and burns form ovens & cooking utensils with our famous Oven & Cookware cleaning paste - or to ensuring the car wheels are sparklign after using our Wheel cleaner, we challenge you to find better cleanrs especially complyting with our strict requirement. All astonish cleanres can be viewed on our website and many are available at leading stores including Waitrose, Kleeneze, Wilkinsons, Home Bargain, 99p stores Poundland, Poundworld and other leading retailers.
www.astonishcleaners.com
External websites may mention products that are not Vegetarian Society approved.