Cornucopia at Home, the cookbook
Cornucopia at Home contains a selection of the most popular and enduring recipes from the Cornucopia Vegetarian Wholefood Restaurant in Dublin. The restaurant is a household name amongst vegetarians, health food enthusiasts and foodies in Dublin, as it has been serving fresh, wholesome, home-style fare for over 20 years. The lavishly designed and illustrated book is divided into six sections which are soups, salads, main courses, desserts, breads and seasonal menus. All the recipes are based on regular Cornucopia offerings, simply reduced in a step by step guide to suit domestic purposes. The book will start by an introduction by Deidre McCafferty which outlines the philosophy that has been her guiding light over the years of running the restaurant. There will be a section that introduces the Cornucopia at Home chef to some of the more basic elements of the Cornucopia kitchen both ingredients and utensils. Each section will include an introduction, followed by tips and explanations, the recipes come next. The book contains delicious and satisfying recipes with consideration for the following dietary requirements: Vegan; Gluten-free; Yeast-free, Dairy-free; Egg-free; Nut allergy and Sugar free. Each chapter contains a variety of recipes suitable for each diet, clearly marked by symbols on each page. Cornucopia at Home is for people who like vegetarian food, who like wholefood, who like comforting food, who like health food and who like to cook everything from scratch.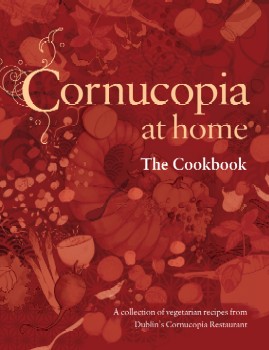 Made by
Cooking in Café Paradiso, the internationally renowned restaurant in Cork City, Denis Cotter has gained a reputation for innovation in his approach to food and for the quality and personal style of his menus. Paradiso Seasons represents Denis Cotter's personal journey through the eternally shifting seasons, focussing on his favourite vegetables at their prime moment and, from them, creating sumptuous and thoughtful recipes. Featuring over 140 original recipes, prefaced by informative and witty introductions, Paradiso Seasons offers a practical and inspirational approach to cooking and eating seasonal food.
www.corkuniversitypress.com
External websites may mention products that are not Vegetarian Society approved.