Agretti
Agretti / Roscano / Barba di Frate Also called Roscano or Barba di Frate (Salsola Soda), this is very popular in Italy and has become the latest in vegetable in fancy Italian restaurants. When mature(50 or so days) they are a 12 inches wide, 24 inch tall bush that looks like a huge chive and they are used mainly in Rome and Umbria. Really good with fish and seafood, it is a mild flavoured green which is a little bit bitter, a bit sourish, but a lot wonderful !! Almost impossible to find in the UK and very, very gastronomic. You can just braise them in some olive oil w/ garlic and serve as a side dish. Can also boil them and dress with some olive oil. Plant as soon as the ground can be worked. Sow and cover with 1/2 inch soil. Space seeds 4-6 inches apart. Thin to one plant 8-12 inches apart in row or raised bed. Germination time: 7-10 days Start cutting from the plants when they are about 6-8 inches tall. Cut the green tops or sections of the plant; it then will regrow. It has a very short sowing window and the seed will NOT keep, hence it's rareness. 100g pack. Customer advice - please compare the price per gram of this variety very carefully when shopping around. PLEASE NOTE that Agretti is very difficult to harvest the seeds from and then to store and package, and it is quite possible some years that it will fail and we will have none or very little.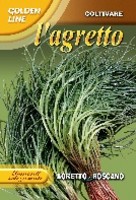 Made by
Franchi Seeds of Italy are the oldest family run seed company in the world and the chefs choice from the seed to the plate. You can find Franchi brand seeds in the best deli's and garden centres around the country. Franchi seeds, Bergamo, Italy, 1783.
www.seedsofitaly.com
External websites may mention products that are not Vegetarian Society approved.