Dusting Powder: T for Toes
Foot Powder to prevent disgustingly cheesy toe pongs. Bacteria will breed wherever there is moisture and they breed faster if it`s warm. Think how happy their microscopic colonies are when billions of them find themselves next to a sweaty foot in a warm shoe. To stop them in their tracks you need to soak up the sweat with absorbent powders and kill off the microbes with anti-fungal and antibacterial essential oils. This is exactly what T for Toes does which is why it sells so well. Get some just in case and sprinkle it on your toes before you put your socks on and in your shoes are you take them off. Prevention is better than cure.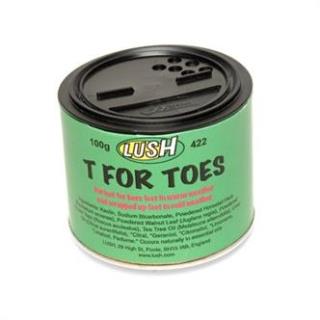 Made by
Available from LUSH stores, mailorder and on-line.
www.lush.com
External websites may mention products that are not Vegetarian Society approved.