Shaving Cream: Ambrosia
For sensitive chins: banishes redness and razor rash. Men, you will never have a sore, red face after shaving again. Never. Ambrosia may make it difficult to keep a grip on your razor, but the results are worth the occasional irritation of having to retrieve it from a bowl of soapy water. Oatmilk, linseed, chamomile, marigold, glycerine and honey calm, soften the skin as they ease your shaving pains. Ambrosia will transform your mornings.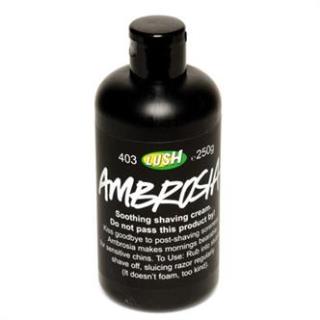 Made by
Available from LUSH stores, mailorder and on-line.
www.lush.com
External websites may mention products that are not Vegetarian Society approved.