Hand and Body Cream: Helping Hands
Miracle working, soothing, softening hand cream. You might be a person who thinks that hand cream is merely one more non-essential thing to spend your money on. That would be because you haven`t given Helping Hands a try. Those who use it, nay rely on it (including me and a nice window cleaner who wrote to tell us about how it helps keep his hands from cracking up) would like to share a secret with you. If you do work your hands hard then Helping Hands is vital; you won`t believe the difference that our calming, softening, soothing cream will make. Those who just fiddle around on computers for a living won`t believe the difference either. No kidding, you look down at your hands and you get a flash-back to ten years ago. It does it with a powerful mixture of calming oils like marigold and lavender, moisturising oils like shea butter and almond and softening linseed and glycerine. Just try it. If we`re wrong we`ll eat this website.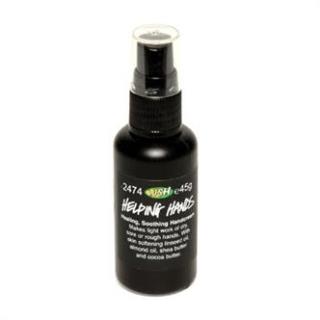 Made by
Available from LUSH stores, mailorder and on-line.
www.lush.com
External websites may mention products that are not Vegetarian Society approved.