Cleanser: Mask of Magnaminity
Deep cleansing, minty, face and back pack. Do you ever feel so grubby you think you`ll never get clean again? After an overnight flight, a marathon in a rabbit suit or a walk along the Marylebone Road during rush hour, do you feel a deep, deep need to be scrubbed clean? Here`s a deep, deep cleansing mask to do exactly that, with china clay and bentonite gel to suck the dirt out of your pores, ground aduki beans and evening primrose seeds to exfoliate away your mucky old dead cells and loads of peppermint oil to make you feel so clean, fresh and minty that you`ll forget you were ever grubby.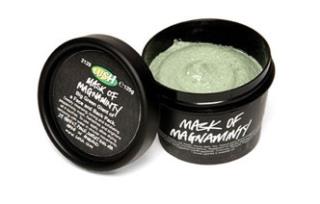 Made by
Available from LUSH stores, mailorder and on-line.
www.lush.com
External websites may mention products that are not Vegetarian Society approved.