Bio-V Two Piece Empty Hard Shell Vegetable Capsule (Hydroxypropyl Methyl Cellulose)
Biocaps is offering a Bio-V vegetable capsules - the two-piece hard shell capsules, which are formulated and manufactured from HPMC (Hydroxypropyl Methylcellulose). HPMC is made of cellulose, a non-animal raw material, which complies with our customers who have a cultural or vegetarian requirement. The capsules are certified with Kosher and Halal . All capsules are manufactured with computer-monitored environment, which allows us to assure the utmost in quality production. Bio-V capsules have the same visual and dimensional specifications as gelatin capsules and perform excellent on both high-speed and semi-automatic filling machines.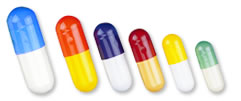 Made by
www.dfc.com.tw
External websites may mention products that are not Vegetarian Society approved.