Breakfast Topping Mix
The BREAKFAST TOPPING MIX – 150g Bursting with juicy pieces of dried fruit including pineapple, mango, apple, banana, kiwi and guava, as well as sunflower seeds, it's ideal for adding to cereals or yogurts or just as a quick bite. Try it as a tasty mid-morning nibble.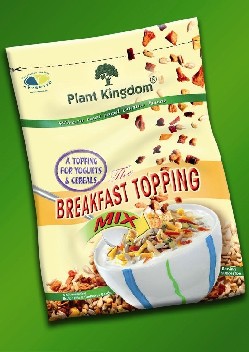 Made by
A range of three great topping mixes have been launched recently which offer a real combination of all that's good for you in a bag. Designed to be sprinkled on your breakfast cereal or yogurt, add juicy cranberries to your lunch, or excite your salad with nuts and seeds, the Plant Kingdom natural topping mixes are a convenient way of giving you and your loved ones the benefits of nuts, seeds and fruits – all of which have been an essential part of the human diet for generations. According to Jeff Bayley "Our forefathers followed natural rhythms in Nature, ate foods in season, ripened by the sun, grown in soil enriched by their own animals. There were no chemicals, and good practices passed from one generation to another. These toppings take us back to the good old days of real natural foods, offering rich combinations of nutritious nuts, fruits and seeds conveniently packed to eat on any occasion." Vegetarian Society approved (www.vegsoc.org), the ingredients in Plant Kingdom are selected from the best sources around the World - pine nut kernels from Pakistan, pumpkin seeds from Austria, Roman hazelnuts, pineapple from Thailand, Bolivian brazil nuts, and cashew nuts from Vietnam - "Cost has not been a issue in our selection of the finest and most nutritional combinations," explains Bayley. "our range simply gives you the best real food for breakfast, lunch or at any time – instant natural goodness." We all know that nuts are great energy suppliers. They contain protein, highly nutritious essential fatty acids, roughage, many different vitamins, minerals and valuable iron. Next to fresh fruit, dried fruit is the most natural sweet nibble. Dried fruit contains plenty of roughage to help digestion and delays those hunger pangs. It also provides energy in a concentrated form, and is appreciated in particular by athletes as an ideal between-meal snack. When nuts and dried fruit are eaten together, they provide the body with an ideal mixture of vitamins, minerals, fatty acids and above all, energy. Just like that. Zap. Plant Kingdom – a real and natural nutritional meal in itself, and in three tempting varieties:
www.plantkingdom.co.uk
External websites may mention products that are not Vegetarian Society approved.