Allens Pine & Honey Syrup
A traditional herbal cough medicine based upon ingredients which have long been used in the treatment of coughs, colds and bronchitis. The balsam also helps relieve the congestion associated with summer colds and hay fever. It is suitable for all the family and does not cause drowsiness. Allens Pine & Honey Balsam is based upon a formulation which was developed in the early 1900's by a Welsh pharmacist, and the product is just as good today as it was all those years ago.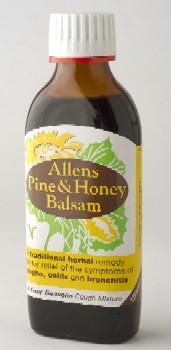 Made by
Stockist include Asda, Morrisons, Sainsburys, Waitrose, as well as Holland & Barrett, and other health food stores. For more details see our website www.allenshealthcare.co.uk or contact us on 01484 519251 or email mail@allenshealthcare.co.uk
www.allenshealthcare.co.uk
External websites may mention products that are not Vegetarian Society approved.