Fry's Vegetarian Thick Cut Chunky Strips
Take a wok on the wild side, splash in and sizzle up some sesame oil, exotic vegetables and throw in a handful of Fry's Special Chucky Strips - toss in some even wilder rice, mix through and serve in a large palm leaf. When winter shows up, turn your thoughts to rich, thick and sensational stews - what could be better than the aroma of a Parisian? Or a New York style pie filled with Chucky Strips and baby onions that will lend you the cred of a gourmet globetrotter. How about a Traditional South Indian curry or a sensational Shwarma brimming with hummus, falafels, jalapenos and crunchy Fry's Chucky Strips?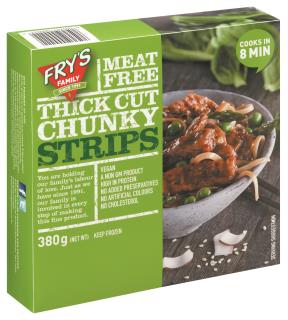 Made by
From humble beginnings in the Fry Family's kitchen, Fry's has become an international success. In 1991, Wally and Debbie Fry, both committed vegetarians, began making protein alternatives or meat analogues for their own consumption. Fry Group Foods was established in South Africa in 1992 to make a range of vegetarian meat alternatives. Since 1992, the company has grown in considerable leaps and bounds as a result of constant attention to absolute quality and true ethics of vegetarianism and the phenomenal growth of vegetarianism worldwide. Fry Group Foods is still owned and run by the Fry Family and is distributed nationally and internationally. The range of frozen Vegan meat analogues consists of 11 products.All products are FREE from - Meat, egg, dairy - Cholesterol - Preservatives or colourants - BUT are high in Protein.
www.frysfamily.com
External websites may mention products that are not Vegetarian Society approved.