The Findhorn Book of Vegetarian Recipes
by Kay Lynne Sherman 128 pages paperback Calligraphy and illustrations by Sarah Zoutewelle Morris In this newly revised edition of the internationally popular Findhorn Family Cookbook, Kay Lynne Sherman once again brings her culinary skill to the creation of mouth-watering vegetarian recipes. From yummy melt-in-your mouth Cheese Souffle, to hearty White Bean Soup with Artichokes, to very traditional Sherry Trifle, to the ultimate decadence in rich chocolate cake, this cookbook offers a cuisine that is kind to the planet, as well as delicious. Kay Lynne, who is known internationally for the joy and grace she brings to the kitchens she works in, reminds us that 'The Most Important Ingredient Is Love' With this simple yet profound truth, basic to the belief of the Findhorn Community, we offer our secrets for taste-tempting, healthy, and satisfying meals. Love for each other, love for the work we do, love for the Beings who create the food we eat these are the feelings that infuse our recipes and our lives. Truly the most important ingredient in any recipe is the love put into the preparation. Join us in celebrating the gift of Life, the gift of Love.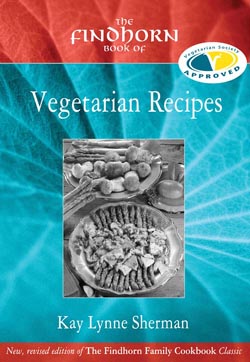 Made by
Findhorn Press are one of the world's leading publishers in the fields of spirituality, healing, and self development.
www.findhornpress.com
External websites may mention products that are not Vegetarian Society approved.