Fry's Vegetarian Asian Spiced Burgers
Our delicious Fry's Special Protam Spiced Burgers have a truly unique and subtle South Indian flavour created with a complex blend of spices. The chargrilled pattern and perfect texture together with this flavour sensation is a gastronomic experience. Serve with a traditional burger bun, salads and chips, or with wild rice, roasted veggies and yoghurt dill sauce for a meal fit to present to your favourite guests.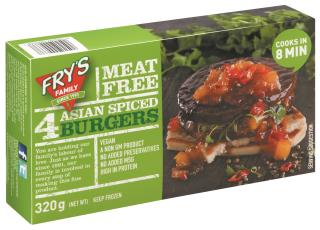 Made by
From humble beginnings in the Fry Family's kitchen, Fry's has become an international success. In 1991, Wally and Debbie Fry, both committed vegetarians, began making protein alternatives or meat analogues for their own consumption. Fry Group Foods was established in South Africa in 1992 to make a range of vegetarian meat alternatives. Since 1992, the company has grown in considerable leaps and bounds as a result of constant attention to absolute quality and true ethics of vegetarianism and the phenomenal growth of vegetarianism worldwide. Fry Group Foods is still owned and run by the Fry Family and is distributed nationally and internationally. The range of frozen Vegan meat analogues consists of 11 products.All products are FREE from - Meat, egg, dairy - Cholesterol - Preservatives or colourants - BUT are high in Protein.
www.frysfamily.com
External websites may mention products that are not Vegetarian Society approved.