Fry's Vegetarian Chicken-Style Nuggets
Each delicious Fry's Golden Crumbed Nugget is carefully shaped into a bite sized chunk, evenly coated with crumbs before pre-cooking. A freezing process locks in the taste before being sealed in this pack to retain their full flavour and crispy freshness. Serve with a crispy green salad, or a selection of lightly steamed vegetables for a hot meal. For a hot cocktail snack, serve with a creamy dip or for a tasty treat, serve with spicy potato wedges or fried chips. A high protein meal, these fun nuggets are delicious and nutritious for both kids and adults.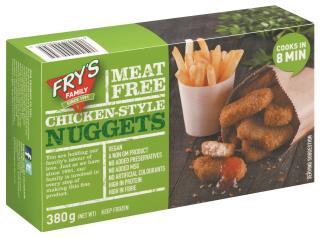 Made by
From humble beginnings in the Fry Family's kitchen, Fry's has become an international success. In 1991, Wally and Debbie Fry, both committed vegetarians, began making protein alternatives or meat analogues for their own consumption. Fry Group Foods was established in South Africa in 1992 to make a range of vegetarian meat alternatives. Since 1992, the company has grown in considerable leaps and bounds as a result of constant attention to absolute quality and true ethics of vegetarianism and the phenomenal growth of vegetarianism worldwide. Fry Group Foods is still owned and run by the Fry Family and is distributed nationally and internationally. The range of frozen Vegan meat analogues consists of 11 products.All products are FREE from - Meat, egg, dairy - Cholesterol - Preservatives or colourants - BUT are high in Protein.
www.frysfamily.com
External websites may mention products that are not Vegetarian Society approved.