Hawaiian Spirulina Tablets
From the dawn of civilisation through the ancient Aztecs to the modern day, Spirulina has been a precious 'Wholefood'. Being 60% protein, weight for weight, it is a beneficial store of highly digestible, plant protein, with all the essential amino acids: it also contains iron, the anti-oxidants Beta Carotene and other Carotenoids, all in a natural form and is a rich source of Vitamin B12 and Biotin. Additionally, Spirulina is a valuable, 'Wholefood' source of GLA (Gamma Linolenic Acid) the same Omega 6 fatty acid as is found in mothers' milk.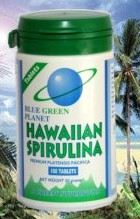 Made by
Blue Green Planet Limited are a leading UK health food company, specialising in the production of Green Superfoods and fresh, freeze-dried "Botanicals". The company is value driven and is committed to establishing its products as the "Natural" choice for Preventative Nutrition and a healthier lifestyle by : Obtaining Green Superfoods and freeze-dried Botanicals from the best natural sources around the world Retaining maximum nutritional content through sympathetic processing Testing Green Superfoods to the highest standards for safety and effectiveness Offering a choice of products to suit a variety of everyday diets Helping customers to enjoy the full benefits of Green Superfoods and freeze-dried Botanicals.
www.bluegreenplanet.co.uk
External websites may mention products that are not Vegetarian Society approved.