Amy's Kitchen Spinach Pizza UK
A blend of feta cheese and organic spinach topped with a sprinkling of part skim mozzarella cheese.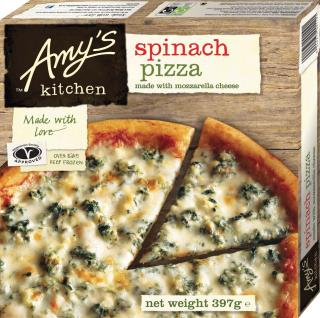 Made by
'A beautiful beginning… After the birth of our daughter Amy in 1987 we found there_ was little time to prepare the wholesome nutritious food we normally ate. Realising there were others like us, we set up Amy's Kitchen to produce delicious, nourishing, frozen meals for health-conscious people too busy to cook. We use only the finest natural ingredients grown without the use of organophosphate pesticides or mother harmful chemicals, and prepare them with the same careful attention in our kitchen as you would in your own home. No meat, fish, poultry or eggs are ever used in any Amy's Kitchen products.''
www.amyskitchen.co.uk
External websites may mention products that are not Vegetarian Society approved.