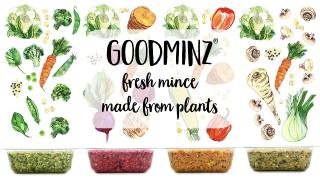 Goodminz
www.rerootfoods.com
External websites may mention products that are not Vegetarian Society Approved.
Reroot Foods launches GOODMINZ. An inspiring new kitchen staple with delicious flavours, lovely textures and a rainbow of colours. GOODMINZ is fresh mince, made from plants.
It is easy to turn into family favourites or creative dishes any time of the day. It is wonderful as burgers, no-meat balls, in wraps and as pasta and pizza toppings. There are four minces in the GOODMINZ range – Green, Purple, Orange and Brown. Each contains minced fresh vegetables and wholesome ingredients like chickpeas and quinoa.
The products are only lightly seasoned so cooks can add herbs, spices, seeds, nuts, fruits and flowers to make their favourite recipes. GOODMINZ is a nutritional powerhouse.
Each mince contains five vegetables and is; a source of protein, a source of fibre, low in saturated fat and contains no soya. Accredited by The Vegetarian Society, GOODMINZ is suitable for vegans, vegetarians and anyone wanting to eat more plants. GOODMINZ is made by hand in small batches and, after many months of development, will be available to buy on Reroot Foods' website for home delivery in August 2017.
Products